---
This article is an opinion piece and its contents represent the standpoint of its author, not UPF Lund or The Perspective's editorial board.
---
November 4th marked exactly one year since armed violence broke out in Tigray in northern Ethiopia. The fight continues to rage between the Ethiopian and Eritrean government forces on the one hand, and the Tigray People's Liberation Front (TPLF) on the other. To date, the Government has blocked internet and phone communication into and out of Tigray. It is also preventing journalists, human rights organisations and humanitarian actors from entering the area.
Atrocities and Casualties
Despite this censorship, there have been reports leaked out of the warzone which portray gruesome acts of savagery. Women are gang raped in front of their children and kept in sexual slavery. Girls are raped in front of their parents and siblings. Their husbands, sons and brothers are hacked to death and summarily executed. Properties are wantonly destroyed. More than 400,000 people are experiencing starvation, because Ethiopian and Eritrean troops are said to be blocking and looting aid convoys. The reports also reveal that more than 2 million people have fled the conflict into refugee and displacement camps.
Between November 2020 and February 2021 alone, the death toll was placed at 52,000, with 5.2 million persons in need of humanitarian assistance. Since rebel forces reached the outskirts of the capital Addis Ababa in the week of November 3rd 2021, the government has announced a nationwide state of emergency and called on citizens to take up arms and defend the capital.
If these reports are anything to go by, then all parties to the conflict are committing acts which amount to war crimes and genocide. It also means that the developments in Ethiopia place the country on a slippery slope toward a full-scale civil war. By these accounts, the ball is now squarely in the court of the international community, especially the club of powerful nations, to step in and take concrete actions to end the nightmare unfolding in Africa's second most populous nation.
How did the race to Ethiopia's self-destruction start?
In 2020, Prime Minister Abiy Ahmed postponed elections due to the Covid-19 pandemic. The Tigrayans, suspecting the Prime Minister of trying to abrogate the country's federal system of governance and consolidate his power, defied him and held regional elections.
In response, on November 4th, the Prime Minister ordered the military to invade the region, accusing the TPLF of attacking a military barracks and attempting to steal weapons. He promised that it would be a swift law enforcement operation that would be over in a matter of weeks. But one year later, Ethiopia seems to be following in the bloody historical tracks of its neighbours Rwanda, Sudan, Somalia, South Sudan, Uganda, among others. What is even more worrisome is that the conflict could spill over into these and other countries in the larger Horn of Africa Region. Eritrea is already fighting on the side of the government, a warning sign of what may be to come.
The International Community's Response Thus Far
So, what have foreign nations done to avert this trend, apart from urging their citizens to leave Ethiopia and reducing their diplomatic staff in the country?
The United States threatened to remove Ethiopia from a trade program for selected African countries if, by January 2022, nothing is done about its human rights records. Additionally, visa restrictions were announced in May 2021, compounded by the threats of economic sanctions.
An emergency UN Security Council meeting held behind closed doors on October 1st ended without reaching a decision on how to respond to the situation in Ethiopia, even though the Ethiopian government expelled UN officials from the country.
With the escalation in the level of violence and casualties despite the above actions taken by the international community, one cannot help but wonder whether these measures are meant to end the conflict or to serve as public condemnation. It is difficult to resist the temptation of asking what is the level of severity required before an armed conflict can attract direct international intervention to bring it to a halt? Does it have to reach the level of another Sudan or Kosovo or Liberia or Somalia?
What about borrowing from the playbooks of the above crises now, before reaching their degree of catastrophe? Like sending in a special envoy to compel the parties to sit around the negotiating table and agree on an unconditional ceasefire. Or passing a Security Council Resolution deploying peacekeeping troops to separate the warring factions? What about the African Union, whose headquarters are located in Addis Ababa, alternatively sending in peacekeeping troops as they did in Somalia and Burundi? Eventually, in the interest of accountability, what about setting up a special tribunal to collect evidence of the atrocities and prosecute those suspected of committing them?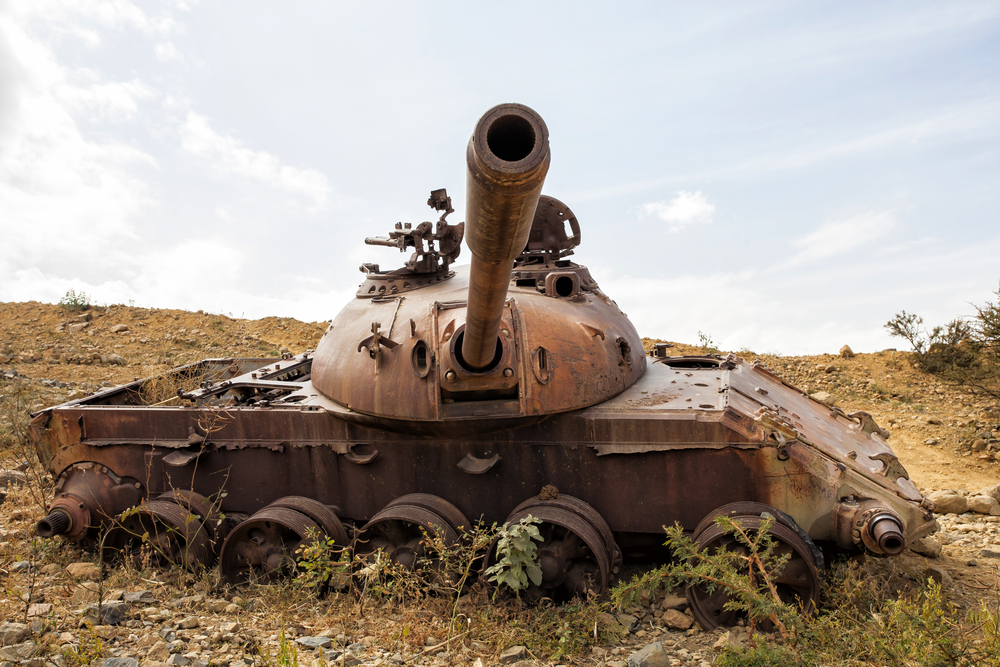 Priorities or interests over humanity?
Perhaps one reason for the international community's delay in responding to the conflict in Ethiopia is the many intervening global developments which have tended to overshadow the conflict. The fighting broke out at a time when the momentum of the 2020 U.S. elections was very high. As usual, the attention of the entire world was focused on America. Then came the US withdrawal from Afghanistan. And most recently, COP26.
Furthemore, Ethiopia is a strategic economic and security partner to some of the permanent five members of the UN Security Council including the US, China and Russia. Even Turkey is flexing its economic and diplomatic muscles in the region, offering to mediate between Ethiopia and Sudan in a dispute over fertile agricultural land claimed by both countries. It does not seem that these powerful states are in any haste to set aside their interests.
That explains why, as the US issues mere threats of economic and trade sanctions against Ethiopia, China vehemently opposes those threats, describing them as "interference "in other countries' internal affairs". China made significant investments in Ethiopia during the pre-Abiy era. They include the leasing of huge plots of agricultural lands, which contributed to ethnic protests that brought down the previous regime. Somehow, China has managed to maintain those deals with Abiy's administration. Accountability and true democracy in the country could mean the review of those "shady sweetheart deals", thus leading to China's loss of those investments.
As for Russia, its policy in Africa and other third world countries has been to subvert US efforts simply by opposing them. Plus, Russia could be keen on welcoming back a former Cold War ally.
A call to World Leaders for Concrete Action
Ethiopia has always stood out as a nation with so many peculiarities. Apart from being Africa's oldest nation, until recently it was seen as the beacon of peace in the East African region. Contradictorily and even more peculiarly, its current Prime Minister erased that label when he became the only Nobel Peace Prize winner to wage a war.
The international community must take concrete actions to bring this war in Tigray to an end. How they respond will be a defining point for the stability of the whole region. Most importantly, it could bolster or undermine their stance on accountability and impunity for atrocities.
By Timothy Lincoln Reeves, Jr.