The taxi swerves across two lanes and I'm flung into the passenger seat door. Oblivious, the driver accelerates wildly before slamming the brakes. My spine shunts forward, my heart stops, and I feel the beginnings of whiplash. The driver chats happily into his phone, texting, his seatbelt alarm chirping.
As first introductions to cities go, it's an orthopaedically rough one. But as we round a corner, we are greeted by a mesmerising cityscape punctuated by minarets and the gleam of the Bosporus strait, and I catch my breath. Istanbul: a city of 16 million people, sprawled across two continents. The eight of us, clutching our UPF tote bags, are set to visit a series of human rights and freedom of speech organisations over the course of a week.
Istanbul has long been a city in flux. Byzantium, Constantinople, Islambol—having been the capital of both the Byzantine and Ottoman Empires, Istanbul is a "huge, colourful Matrushka" with many names and a richly layered history. We soon see evidence of this on a visit to the Hagia Sophia, a resplendent building that has been variously converted between church, mosque, and museum. Today a mosque, loosely draped sheets cover its Christian iconography.
Walking through the city, the aromas of spice markets mix with an ever-changing ensemble of street musicians: the thrum of a nylon-stringed kanun, the piercing shrill of a zurna, the resonant tones of an oud. Under the blazing sun, street vendors sing the praises of their goods: deep-fried, syrup-soaked lokma and tulumba; sticky sweet baklava and kunefe; and powdery lokum of every conceivable colour. Darting between cars and people on perilous roads, trash collectors haul enormous carts of plastic waste up steep hills, an informal recycling sector propped up on egregious worker exploitation.
At every organisation we visit, we are lavished with hospitality, immediately greeted with almond cookies, tuzlu kuru pasta, and hot tea. The warmth of this welcome often stands in stark contrast to the topics and tone of the discussion beyond it.
We speak to a women's rights organisation, WWHR-New Ways, about changes and continuities in the fight for gender equality in Turkey. Our conversation shifts from female labour force participation and conceptions of feminism, to perpetrator impunity and weaknesses in victim protection in cases of domestic abuse and femicide. Hearing how dire the situation remains in the city that gave its name to the Istanbul Convention, a human rights treaty for the prevention of domestic violence and violence against women, is disheartening. Turkey was the first country to ratify this convention, and the first to withdraw in 2021.
At the Freedom of Expression Association (IFÖD), we meet lawyers and academics risking lawsuits and their careers to defend freedom of opinion and expression, and oppose media and Internet censorship. Representatives of the Truth Justice Memory Centre describe to us their work in uncovering historical human rights violations, focusing on the 'enforced disappearances' systematically implemented across Turkey in the decades following the 1980 military coup d'état. Both organisations tread on eggshells, their continued existence a continual question mark as Turkish civil society perseveres under the increasingly autocratic shadow of Erdoğan's populist regime.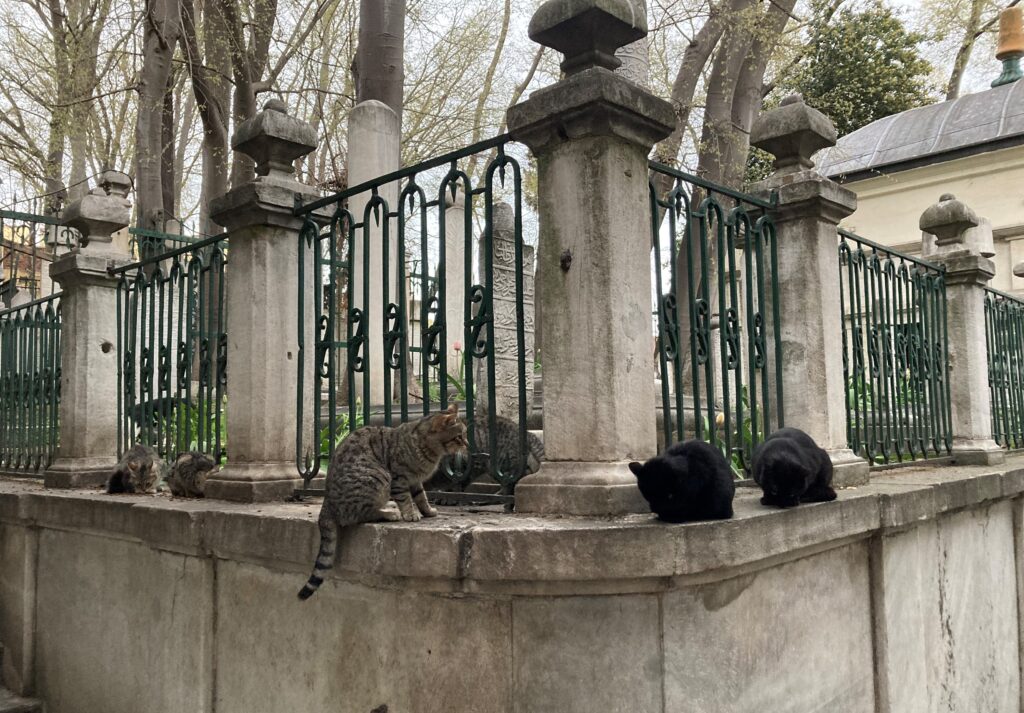 Visiting the Refugees Association in Sultanbeyli, we are guided through a community centre which spans seven floors, each hosting a different assistance project. The scale of operations is impressive, but seems smaller when we learn that the area is home to approximately twenty thousand Syrian refugees, many of whom are dependent upon the centre's services. Nonetheless, the staff are upbeat and smiling as they talk about empowerment, social cohesion, and community involvement. After a tour of the premises, we sit down for a more in-depth discussion of the centre's goals and initiatives. Momentarily forgetting the presence of a municipality representative in the room, I ask a question that verges on a more contentious topic. The speaker laughs nervously and says they don't deal with political questions, quickly moving on.
In the murky basement of the Human Rights Association office, we speak with a human rights lawyer via a translator. Together, they explain the work of the association in protecting human rights and monitoring rights violations across Turkey. The lawyer speaks in calm and precise sentences, waiting patiently as we are given a translation, occasionally interjecting to make clarifications. Her composure is mystifying given the subject matter: wrongful detention, torture, disappearance under custody, massacres, and the Kurdish-Turkish conflict. She has been imprisoned for her work multiple times, as has our translator, a Kurdish journalist. I ask about the flower in the organisation's logo. It's a snowdrop, they say, a symbol of hope and resistance. But the flower is red, not white, and restrained by a chain.
Hearing story after story about the erosion of citizen freedoms in Turkey, I am reminded of the words of Elif Shafak, a Turkish-British author and political scientist for whom the city of Istanbul is a recurrent literary theme. She has spoken powerfully about an imaginary dualistic map of 'liquid' and 'solid' countries. 'Liquid' countries are turbulent and unsettled, in need of feminism and human rights activism, while 'solid' countries are safe, stable, Western, and beyond the struggle for democratic freedoms. This distinction, she says, is a fiction. We live on shifting sands. Democratic backsliding and challenges to human rights norms are universal phenomena we should all be alert to.
The past decade has cast ever more doubt on Turkey's century-long pivot to Europe and the West. Despite its strategic orientation towards Europe and involvement in key Western organisations such as NATO, Turkey has long had a complicated relationship with the West. Beyond domestic corrosion of democratic values and human rights norms, Turkey under President Erdoğan has backtracked on European integration and weakened EU-Turkey relations by undermining its commitment to key institutions. Turkey's repeated failure to implement binding judgements of the European Court of Human Rights in the high-profile unlawful detention cases of human rights defender Osman Kavala and Kurdish politician Selahattin Demirtaş, has compromised its relations with the Council of Europe. The increasingly unilateral and nationalistic path forged by Turkey, particularly in the aftermath of the 2016 coup d'état attempt, has included building closer ties with Russia.
Turkey's attempts at strategically balancing between Russia and the West are long-standing, but have been increasingly called into question by the Russia-Ukraine war. It has been argued that the war could bring an end to Turkey's geopolitical balancing act, particularly given its NATO membership, forcing it to choose sides. Despite not implementing sanctions against Russia, partially due to a rapidly deteriorating economic situation, and huge dependence on Russian energy and grain exports, Turkey joined the majority vote in the United Nations General Assembly demanding Russian military withdrawal from Ukraine. Some speculate that Russia's war could bring Turkey and the West closer by making cooperation and foreign policy coordination between Turkey, the EU, and the United States a higher priority. But if recent history is anything to go by, Turkey's foreign policy is a bumpy ride with an unpredictable driver.
I found our trip to Istanbul to be both illuminating and unsettling. Such incredible richness of history, life, and colour was in the constant company of entrenched social, political, and economic problems. Throughout our week of conversations with NGOs and activists, I felt a strong sense of Turkey's dualities in these turbulent times—sweet tea that leaves a bitter taste. I'm very grateful to UPF for funding and facilitating this trip; every UPF member who partook will surely carry forward its lessons and insights, and I hope this article has relayed some of the problems we were given heightened awareness of. Istanbul, with its wealth and proximity to Europe, is both shielded from and a nexus of many of these problems in Turkey. A city in disarray, a city in conflict, a city in flux.
Ffion McEvoy