DISCLAIMER: In the final edition of The Perspective's print magazine, Gian D. Gantenbein contributed the article "Burning bridges in the Sahel – Africa's very own Afghanistan". It featured a brief overview of the Sahel's conflict history, a look into shifting alliances and the newest developments in Mali as well as an outlook with challenges, hopes and expectations, complemented by a call for EU personnel to stay in the Sahel. But the situation is changing rapidly. The epicentre of combat has now shifted to neighbouring Burkina Faso. This article continues to shed light on one of the most overlooked areas of conflict in the world.
"Effectively, there is a massacre in Burkina Faso right now." Just days before the editorial deadline of this piece, Azali Assoumani, the president of the African Union, addressed a controversial tweet on the French TV channel TV5MONDE, posted in late April. Its author, ECOWAS-chairman Umaro Embaló, condemned what he called a genocide in Northern Burkina Faso—"Effectively, there is a massacre in Burkina Faso right now."
The context of when and where to use the term "genocide" remains juridically disputed. Yet, both high-ranking politicians refer to the atrocities committed by uniformed soldiers of the Burkinabé armed forces in the village of Karma on April 20, 2023. 156 civilians were killed, among them 28 women and 45 children, in what is believed to be a retaliation operation. Merely five days before, suspected Islamist fighters had killed six soldiers and 34 members of a volunteer defence force not far from Burkina Faso's northern border to Mali. According to a local farmer, the soldiers accused the villagers of cooperating with Islamist fighters in the region.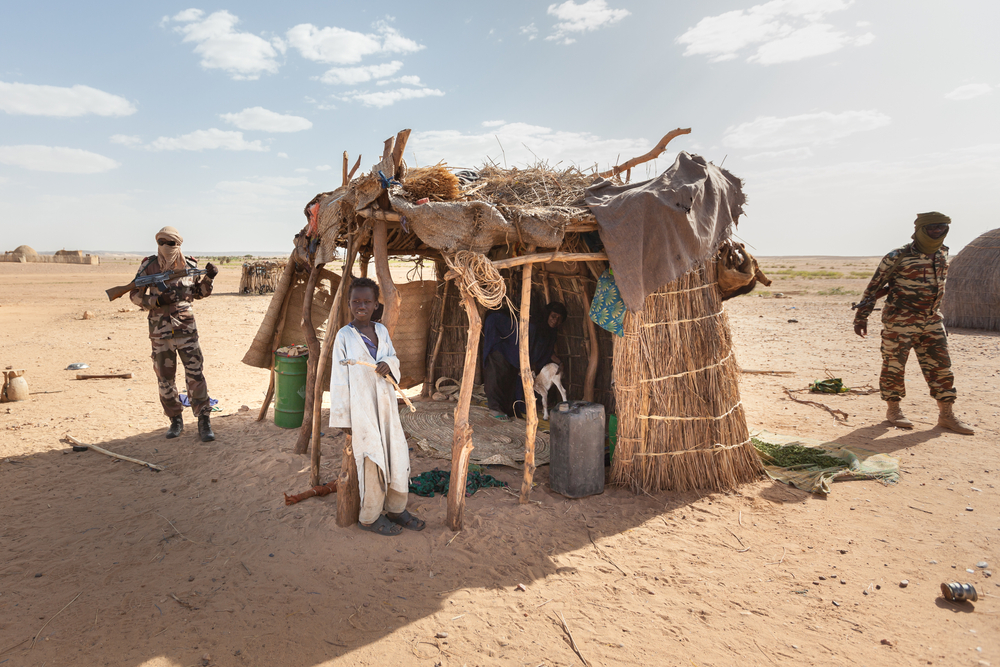 Tragically, such brutal acts of violence are not uncommon in Burkina Faso. In the landlocked country, among the world's ten poorest countries, currently, about 1.9 million people have been displaced. Around half of them are children. Several thousand have died during the ongoing armed conflicts and the humanitarian and nutrition crises. The state is said to have lost control of over 40% of Burkina Faso's territory. Some observers are questioning whether Burkina Faso can already be considered a failed state.
The situation is increasingly catastrophic. Following around ten years of instability, the country experienced two military coups within eight months. On September 30, 2022, 34-year old captain Ibrahim Traoré launched a coup d'état. The leader of the military junta seems to be quite keen on following in the footsteps of the Malian coup leader and interim president Assimi Goïta, aged 38 when assuming office. Just like Goïta, Traoré was a special forces soldier before overthrowing his government. Just like Goïta, he took advantage of the tense situation following a military coup d'état. An eight-month gap between the two coups in Burkina Faso, and a nine-month gap in Mali. The low-ranking officer Traoré was trained by EU and US instructors before joining the French-led United Nations Multidimensional Integrated Stabilization Mission in Mali. Goïta was trained by German and French instructors, too. In a US-led special forces training, the Malian leader then met Mamady Doumbouya. Doumbouya, at the time 41 years old, also went on to overthrow his government before being sworn in as the new president of Guinea.
What we seem to be observing here in real time could be the development of a network of young, highly-skilled and ruthless coup leaders in charge of military juntas. Their connection largely flying under the radar, all three are trained in Western military strategy and possess detailed knowledge about their local society, guerilla tactics and customs. This has the potential to shape the political and strategic landscape of West Africa for decades.
But these are not the only similarities: Burkinabé leader Traoré appears to share Goïta's views on multilateralism too. In February 2023, a mere seven months after Mali evicted all French troops, effectively putting an end to EUTM Mali and triggering the withdrawal of a majority of EU military personnel, Traoré's interim government also kicked all French troops out of Burkina Faso. Similarly to Mali, in Burkina Faso, reports on the presence of the Russian mercenary group Wagner are spreading fast, as the junta looks for new partnerships. Ibrahim Traoré still denies their activities in the country. But, in a recent interview, he hailed Russia as a "strategic ally". At rallies in the capital city of Ouagadougou, Russian flags are often seen waving. And in an unfortunate slip of his tongue, Wagner boss Prigozhin stated that in the massacre in Karma, none of his Wagner mercenaries on the ground died, effectively confirming their presence. Furthermore, the hybrid threat of pro-Russian, anti-EU and anti-UN disinformation campaigns—already present in 16 countries all over Africa—have reached Burkina Faso.
An increasingly influential player is the so-called "Koglweogo". These self-defence groups are in the business of non-state security where the state fails to control its territory. Similarly to Wagner, they have neither contracts nor is there any accountability. Sometimes armed with guns, sometimes simply with bows and arrows, these groups patrol certain agricultural cities or urban neighbourhoods promising to provide security, where the state fails to do so. From private parties to cattle herds, their jobs can differ in nature. In some regions, cattle keepers claim to be much safer now. In other places, Koglweogo groups are more than frowned upon. In areas where the state is not present at all, they also perform judicial and police tasks. Being prosecutor and judge at the same time, these groups do not allow a fair trial. Punishments in such trials are violent, often the suspects are beaten. Some Koglweogo leaders have even openly admitted to torture. How does the state react? The local governments, unable to provide security themselves, let them get away. As a result, the self-defence groups are de facto immune to prosecution. Critics fear that a new generation of warlords is quickly establishing itself.
But on the stage in Burkina Faso, there are even more different actors. Superior in numbers, equipment and international backing, jihadist terrorist groups affiliated with ISIS or Al-Qaeda are in the process of seizing control. Set side by side, Koglweogo pale in comparison. Countering terrorism and stabilising the region are the key reasons why the French military operation "Sabre" in Burkina Faso began in the first place, fifteen years ago, long before the first missions in Mali. Burkina Faso is ranked second in the Global Terrorism Index in 2023, second only to Afghanistan. Observers conclude that the French-led fight against terrorism seems to have failed.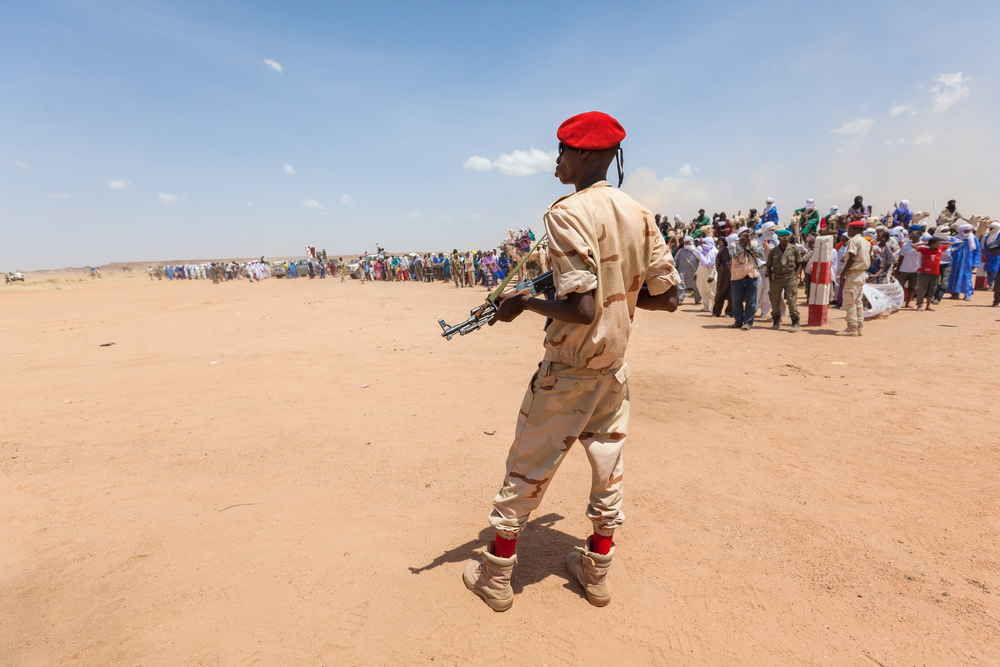 Fear of violence, poverty and the effects of climate change have continuously driven people into the arms of terrorist groups. Facing terrorist raids, villagers in Northern Mali often have no choice but to flee – or to join. The military junta declared a general mobilisation in mid-march. The strategy consisted of recruiting 90 000 additional civilian and paramilitary troops. In April, one of their camps in the North was attacked. Seventy combatants are said to have died, a majority of them were recruited not long ago. The border region to Mali remains one of the most contested regions on the continent. But Burkina Faso's surge in violence highlights the limits of the government's counterterrorism strategy. The Islamist threat has already claimed around 13 000 lives.
In the absence of French military personnel, an unclear situation of Russian influence and the junta's desperate attempts of recapturing territory, Traoré's troops face an immense challenge. And things seem to continuously get worse. At the imminent risk of losing influence and sympathies for good, the EU and its member states must revise their strategy towards West Africa and the Sahel. Approximately €60 million each year in humanitarian and development assistance seem to go widely unnoticed. The largely failed military and training missions are now unwanted by several governments in the region. Progress in peacebuilding and the promotion of human rights seems lost. The massacre in Karma is just one example of this trend. To avoid a further decrease in stability and a spiral of military action towards genocide, swift action is highly advised.
A new approach, built around Europe's fundamental values of democracy, human rights and the rule of law, must be quickly developed and implemented. Military support to peacebuilding rather than peacekeeping should be incorporated, and the resilience of a strong and recognized central state with effective security forces should be promoted. Moreover, a variety of studies show that women at the negotiation table render peace more durable—this might be the perfect opportunity to include a feminist approach. But the most crucial part must be to win the hearts, sympathies and minds of the local populations. Facing the threat of Russian disinformation, the EU must step up in creating a reliable, serious and legit information campaign.
By Gian D. Gantenbein