This article is an opinion piece and its contents represent the standpoint of its author, not UPF Lund or The Perspective's editorial board.
"The New World order is already here, we have to deal with it."
It was a sunny September afternoon in Nairobi, when Prof. Hirut Woldemariam, former Ethiopian Minister of Science and Higher Education, proclaimed the arrival of a New World order. During a science conference in Kenya's vibrant capital, Prof. Woldemariam expressed a sentiment that only seems to grow: The balance of geopolitics is changing.
Merely a month prior to this, global leaders representing nearly 40 countries gathered in Johannesburg, South Africa, potentially pioneering the heavily discussed "New World Order". At their 15th Summit in late August, the BRICS states, comprising Brazil, Russia, India, China and South Africa, welcomed six new members into its ranks, joining the group in January 2024: Argentina, Egypt, Ethiopia, Iran, Saudi Arabia and the UAE. This is an unusual coalition, given that some of this century's fiercest rivals are now joining forces, creating what is now referred to as BRICS+.
The implications of the 2023 BRICS Summit have the potential to shape geopolitical discussions for decades to come. Following the 2023 summit, BRICS doubled in size and certainly gained a lot of attention. 13 years after admitting the last new member – South Africa – BRICS has opened the floor for applications. More than 40 nations expressed interest in joining and 23 formally applied.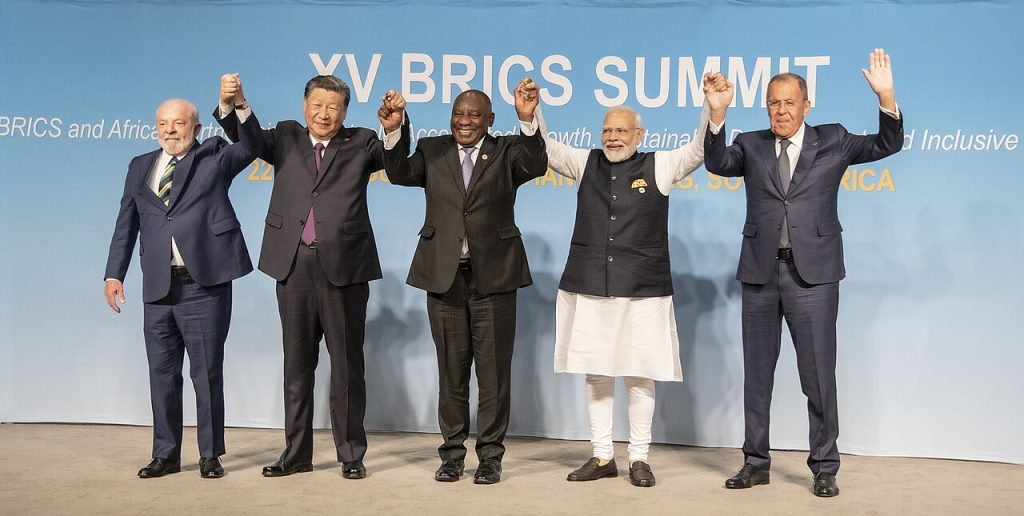 BRICS+ represents around 40% of the world's population and a quarter of the global GDP. "Dedollarization" was the word of the hour. With the establishment of a so-called New Development Bank, BRICS+ wants to offer an alternative to the international economy centred around the US$ and provide trade and payment mechanisms in Member States' currencies, maybe even create a currency that is proprietary to BRICS+.
In recent coverage, a phenomenon described as "multilateralism à la carte" has emerged, describing a move towards a more flexible undertaking of foreign politics. Instead of having fixed alliances with unchallenged loyalties, states pursuing this type of policy enter different non-exclusive partnerships in different realms. In theory, this allows states to find solutions which enable leaders to get the most out of agreements without entering long-term commitments. The lack of accountability can be attractive for autocratic leaders, especially in states with developing democratic structures.
Kenya and Ethiopia – between BRICS and the EU
For developing nations, BRICS+ holds the alluring promise that no nation should be left behind. "China is a friend Africa can count on", Xi Jinping said, welcoming all developing nations — especially African countries — to join BRICS. By far, the two biggest powers in East Africa are Ethiopia, which recently joined BRICS+, and Kenya, which seems to take a much more EU-friendly path. Why are their paths diverging?
The war- and conflict-ridden Ethiopia has for decades been looking to Russia. In 2021, these two states signed a variety of agreements on strengthening military cooperation and friendship. Ethiopia never condemned Russia's attack on Ukraine and is openly helping to spread misinformation from Russia. Russia claims to have "gifted" 25,000-50,000 tonnes of free grain to six African countries in an effort to gain favour for its blockade of Ukrainian grain exports. But since August 2022, Ukraine has exported 25.1 million tons of grain through the grain corridor, of which 2.9 million tonnes made their way to Africa. This might indicate that Ethiopia seems more committed to friendly relations with Russia than solutions to recent food insecurity crises.
The infrastructure sector is dominated by China in both Kenya and Ethiopia, two cornerstones of China's Belt-and-Road Initiative, China's global infrastructure development project, investing around a trillion US$ in almost 150 countries. China's foreign direct investment in Ethiopia is valued at over 4 billion US$ with around 400 active Chinese infrastructure projects. These come at a price: Africa's second most populous country also has Africa's second highest debt to China at a staggering 13.7 billion US$. The headquarters of the African Union in Addis, a 200 million US$ project, were financed and built by Chinese state-owned enterprises. The project sparked an international scandal, as shortly after their opening, news emerged that Chinese spying devices had been planted in offices all over the building. Nonetheless, political ties between Ethiopia and China are strong, not only because of the considerable dependence of Ethiopia on China.
Window of Opportunity for the EU
Kenyan President Ruto has moved on from his predecessor's focus on Chinese investments, actively seeking to diversify Kenya's portfolio, whilst aligning with "the West" on issues such as green transition, human rights, trade and security. At the same time, the EU has introduced a series of measures to create a fairer investment environment with the goal of cooperation on equal footing.
With the Global Gateway Strategy (GGS), the EU's connectivity offer to the Global South, the EU has pledged to invest €300 billion until 2027. Being East Africa's trade and transportation powerhouse, Kenya possesses Africa's second-largest harbour in Mombasa and is strategically located, connecting the Indian Ocean to the landlocked countries bordering Kenya. It serves both Intra-African North-South and East-West transport routes.
The EU delegation in Nairobi has started sponsoring highway improvement together with the African Development Bank, investing €275 million from the European and German Investment Banks. Much of the transport infrastructure has previously been built and operated by Chinese investments and companies. Now, the EU has the opportunity to strengthen its commitments in Africa. GGS, if implemented properly, will be a key feature of the EU's move for strategic autonomy, one of the EU Commission's priorities.
"It doees not make sense for Europe to build a perfect road between a Chinese-owned copper mine and a Chinese-owned harbour. We have to get smarter when it comes to these kinds of investments!" – Ursula von der Leyen
EU officials believe it is necessary to invest in sustainable infrastructure aside from transportation. As Ursula von der Leyen claims "it does not make sense for Europe to build a perfect road between a Chinese-owned copper mine and a Chinese-owned harbour. We have to get smarter when it comes to these kinds of investments!". Current investment of EU bodies and Member States extends to the opening of Erasmus+ to a wider audience, offering scholarships and education opportunities to many East Africans, as well as investment in health, energy, and trade. Investments into geothermal plants, wind farms and a brand-new hydrogen deal mark the EU's priorities.
Nevertheless, Kenya won't be solely relying on a partnership with the West. Much like previous presidents, current President Ruto has made moves suggesting a developing "Look-East-policy". On his state visit to China in mid-October, Ruto signed a major infrastructure agreement and facilitated a business deal worth roughly 400 million US$.
Challenges and Opportunities for the EU
Facing a gigantic geopolitical task, the EU and its Member States have found a partner in Kenya but might need to step up contributions and diversify their investment and cooperation. Where African states pursue multilateralism à la carte, the EU aims at providing attractive alternatives, promoting human rights and combatting climate change. The BRICS+ have opened their doors to an array of mostly authoritarian to dictatorial states. Chinese Foreign Investments tend to not be coupled with improvements to human rights, income and gender equality or sustainable development. While supporters praise the benefits for developing states, many commentators argue that the major beneficiary is China, rendering generations dependent or creating loan traps. Russian foreign policy has been a security threat extending far beyond its immediate sphere of influence. Armed conflicts and the use of mercenaries are responsible for countless deaths, displacements and illicit resource extraction and smuggling. This has changed the international security architecture for good.
The EU has an opportunity to create a powerful counterpart with GGS. Infrastructure remains at the heart of the competition between BRICS+ and the EU. Nevertheless, the Union should focus on creating a sustainable, resilient and democratic alternative. Thus, it could provide lasting security and development which would truly be mutually beneficial. In order to achieve this ambitious goal, the EU must invest in its image: A 'win the hearts and minds' approach coupled with vast investment in education and labour opportunities might help achieve a real "Win-Win".
By Gian Gantenbein
October 24, 2023