The wide variety of customs and traditions practiced in Eastern Europe during the winter holidays reflects the region's cultural diversity. Yet, a defining feature of this time of year is its close connection to religion. Research suggests that in most countries, the vast majority of the adult population identifies with a religious faith, with Roman Catholic and Eastern Otrhodox denominations being the most common.  
During communist rule, countries that were part of the Eastern Bloc dealt with a systematic suppression of religious freedom. This has largely prevented families from practicing religious customs, including those associated with the winter holidays. Even Santa Claus had a different name that removed religious connotations, such as "Mos Gerila" in Romania, which translates to Grandfather Frost. In Slavic countries, Santa's name is still "Ded Moroz," which has a similar translation. After the fall of communism, winter holidays regained their long-lost importance, even though the impact of communist rule on certain customs is still felt in some parts of the region.
Interestingly, people follow different calendars, which has an impact on when and how they engage in celebrations. For many, though, advent is an important part of the holidays. It may start on November 15th or on the fourth Sunday before Christmas. Soon thereafter, on December 6th, Saint Nicholas is celebrated throughout most of the region. In several countries, a fictional character similar to Santa Claus "brings" fruit, candy and other gifts. Further, Christmas festivities and meals are largely unique to each country, so let's delve into some of them!
Poland
Perhaps one of the most awaited moments during the winter holidays in Poland is the Christmas Eve dinner. Twelve dishes are served, mirroring the number of Apostles, Jesus's closest followers. Carp always makes it on the menu. This fish is traditionally bought alive and kept in the bathtub for a few days until the dinner. Other foods are also popular, such as "pierogi," or dumplings that can be either sweet or savoury. For dessert, Poles often opt for "makowiec," a poppy seed cake.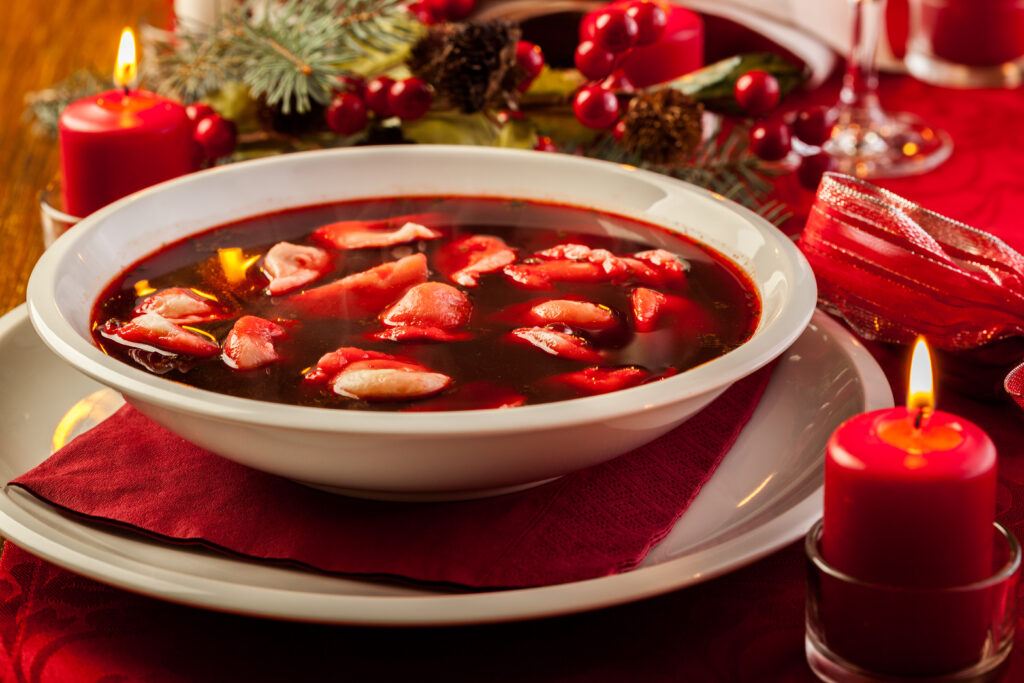 A layer of hay is put beneath the tablecloth, as a symbol of the moment when Jesus was born, and  a seat at the table is always left empty for an unexpected visitor. Another notable tradition involves waiting for a first star to appear in the sky, another symbolic custom related to the birth of Jesus. At midnight on Christmas Eve, religious families typically attend mass in church. 
As the new year arrives, this brings the onset of the lesser-known Polish carnival, which dates back centuries ago. In modern times, there is something for people of all ages to enjoy. Children engage in dress-up parties organised at their school while grown-ups either opt for a night out or themed house party.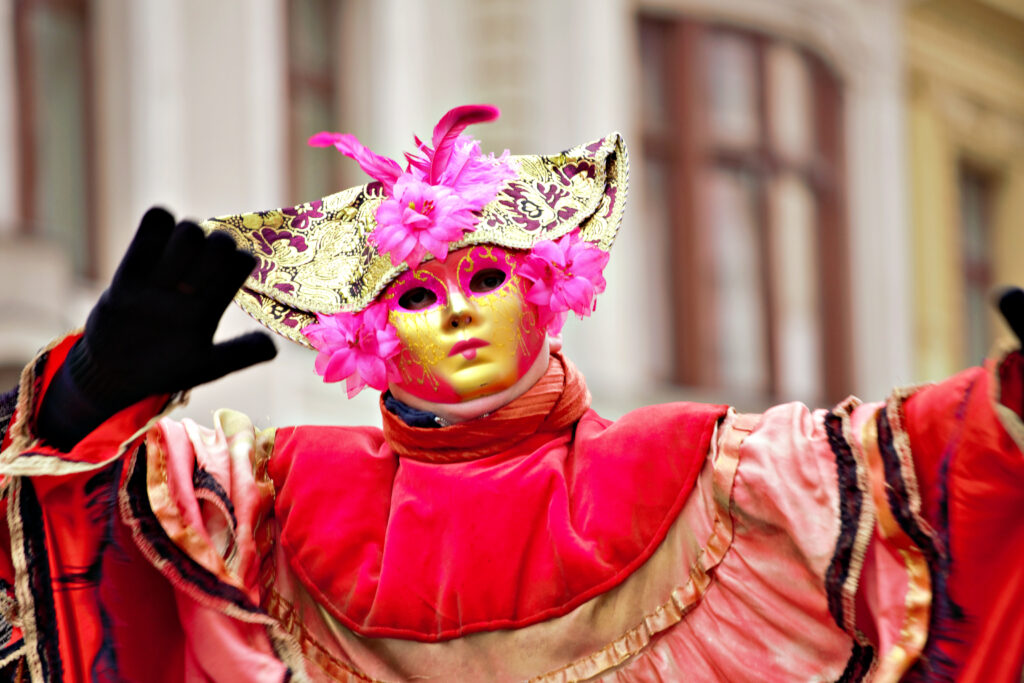 Romania
Romanians have a special dinner on Christmas Day, December 25th, marked by a culinary showdown. "Sarmale," minced beef or pork mixed with rice and wrapped in pickled cabbage or grape leaves, are always a favorite. For dessert, Romanians prepare "cozonac," a sweet bread with cocoa and nuts. 
Caroling rituals are a distinctive aspect of the winter holidays and comprise a mix of songs, dances and games performed on set days. These rituals demand handmade costumes, and their specificities vary from one Romanian region to the next. In Transylvania, for instance, on the night leading up to Christmas Eve, children walk through their villages to let everyone know that Christmas is near, while in the region of Maramures they are expected to create their own shiny stars and other props using objects that they find in their homes. 
Superstitions are carefully considered. In rural areas, families decorate the entrance to their homes with garlic, to get rid of "evil spirits." Moreover, on Christmas morning, many Romanians wash their face in a bowl filled with water and coins, due to the belief that it will bring them health and prosperity.   
New Year's Eve is an occasion for getting together with friends. Dinner almost always includes fish. One of the most popular traditions involves eating exactly twelve grapes, one by one, since it is said to bring prosperity in the upcoming year. Wearing red clothing is likewise considered to attract luck. 
Russia 
In Russia, the most significant holiday of the season is undoubtedly New Year's. This is reflective of the Soviet secular legacy, as many popular winter traditions and customs were molded during the course of the past century.
The New Year Tree, or "yolka," has a special significance and is the centerpiece of community-wide celebrations. Festivities are frequently held for kids in schools and kindergartens on this occasion. These joyous events give parents an opportunity to collect long-lasting memories, while children dress up as their favorite fairytale characters, participate in round dances and receive gifts from the beloved "Ded Moroz" (Grandfather Frost) and his granddaughter.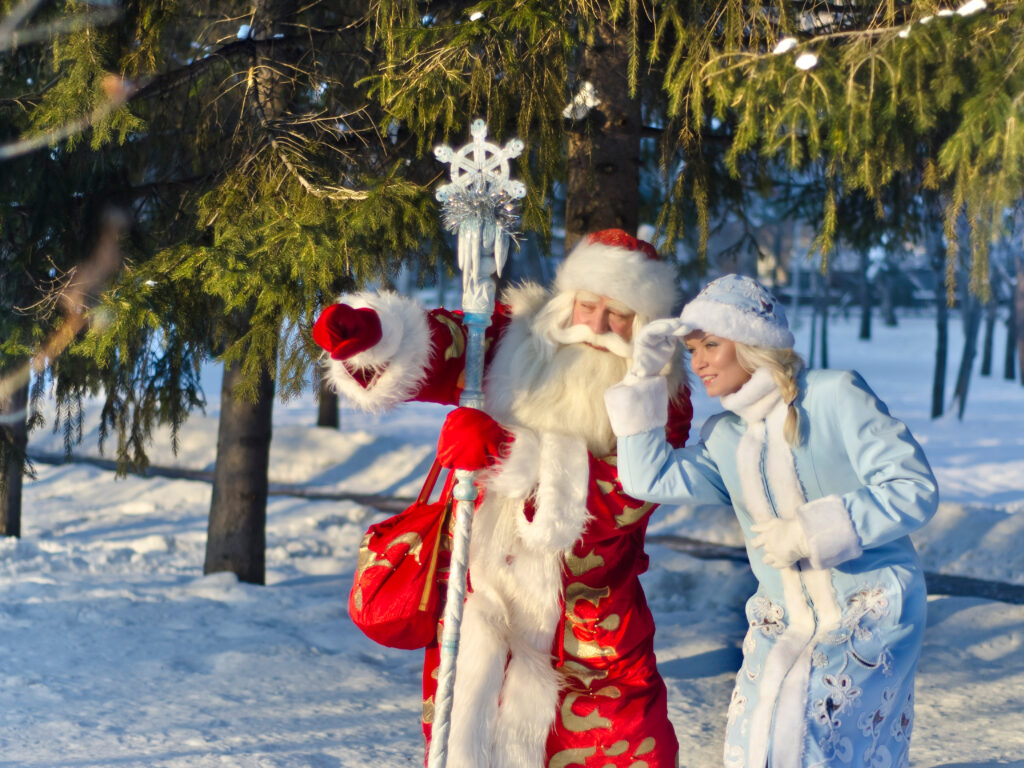 The New Year's Eve celebration typically takes place among family members, though bigger social and formal events are popular too. Attendees enjoy a holiday dinner, which most commonly includes an Olivier potato salad, dressed herring, sauerkraut (thin fermented cabbage) and tangerines. In modern times, the evening is usually accompanied by the background noise of Soviet movies or holiday TV shows. Right before the clock strikes midnight, clinking glasses and whispers of wish-making fill the room.
Liviana Strambeanu and Kseniia Sharnina