The effects of Russia's ongoing invasion of Ukraine have been devastating. There has been damage to much of Ukraine's infrastructure, and over 6 million Ukrainian refugees have fled their homes—not to mention the damage to the energy and agriculture sectors. Beyond the observable destruction, the war has had an impact on the country's culture, especially its music scene.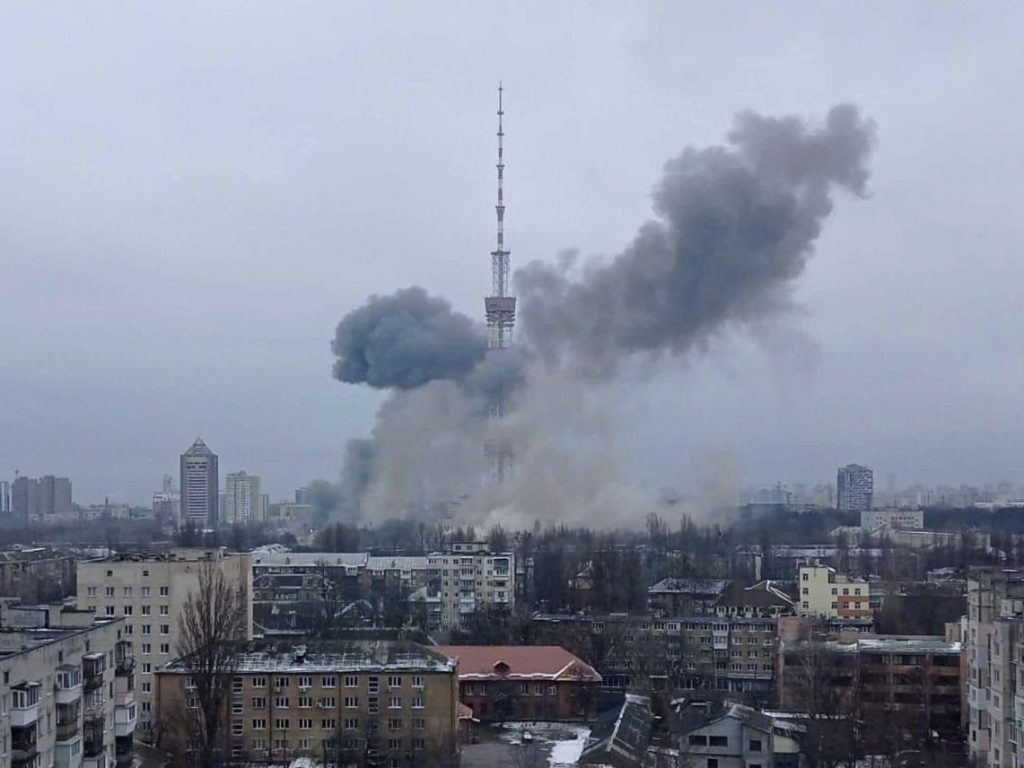 There is an importance to be found in being mindful of the music individuals choose to stream. Ukraine's tourism website, Visit Ukraine, emphasizes that "by listening to songs by artists from the aggressor country, Ukrainians are sponsoring the occupying army". Many Ukrainians wrote an open letter to their community. The message of this letter: "Cut all ties with the russian music scene that supports the regime by staying silent and paying taxes to the government." The goal of this request was to put pressure on russian artists, which would encourage them to voice their concerns regarding the war, creating a much-needed discourse about russian imperialism. The proper nouns in this paragraph are written in lowercase, with respect to the intentions of the authors of the open letter.
In an interview with the Washington Post, Ukrainian singer Maria Kvitka explains that Ukrainian music was devalued and ridiculed during the Soviet era. Russian music has dominated in post-Soviet countries since. Kvitka illustrates that now, more than ever, it is time for Ukrainians to create, listen to, and prioritize music in their own language. And so they have been doing.
Research from earlier this year shows that 65% of Ukrainian citizens don't listen to Russian music—20% have never, and a whole 45% have stopped since the start of the war. Twenty-one per cent of the population has started listening to less Russian music. In August of last year, for the first time in history, the top ten songs recorded in Apple Music's top 100 in Ukraine were all local.
Additionally, music from Ukraine is being embraced more on a global level. Artists such as Go_A, Verka Serdyuchka, and Kalush have gained popularity through the Eurovision Song Contest. NK (Nastya Kamenskikh) has climbed the charts in Latin America, gaining much appreciation in Mexico. Ukraine has become "a crucial node in Europe's electronic underground", and an important home to techno. Even the extremely popular Christmas song "Carol of the Bells" is Ukrainian and this is finally becoming common knowledge.
Many celebrated Ukrainian artists have actively participated in the war: "Musicians have given free concerts on the front lines, in metro stations and in underground bunkers, raising the morale of exhausted soldiers and citizens. Others donated their album profits to the army." Andriy Khlyvnyuk, front man of the famous Ukrainian band BoomBox has been volunteering with the tactical reaction operations unit, deploying drones against Russia. He says that playing during the war is very different. It is now an effort to raise money for the frontlines, a way to bring people with a shared pain together, as well as to celebrate their Ukrainian identity. Other artists seem to agree with this notion. Members of the Skhid Opera have been performing small concerts across Kharkiv. According to violinist Vera Lytovchenko, "This is the most important time of our lives, and these are the most important performances we'll ever play. […] It's unlike anything we ever did before the war. It's a way of saying: we're not afraid."
Ed Vulliamy, in an article for the Guardian, highlights that many of the soldiers we see in viral videos "are yesterday's taxi drivers, plumbers, computer programmers – and musicians. People who up until February of 2022 were singing into microphones, spinning discs, playing clarinets or guitars, are now learned in the arts of war."
It's not just musicians individually that are directly helping Ukraine's resistance, festivals and music organizations are also helping. Atlas, the biggest music festival in the country, which was going to host a set of household-name headliners in 2022 redirected their efforts in March of that year. They donated their practical supplies: water, gloves and raincoats to the military and as humanitarian aid. They also converted their headquarters into a dorm for students who needed it. In cooperation with the Ukrainian Association of Music Events (UAME), they transformed one of their venues into a humanitarian centre that distributed essential aid supplies to hotspots across the country. Furthermore, many of Atlas' employees have been putting their skills to use by working against Russian propaganda online, making useful infographics to raise awareness, and volunteering at the frontlines. They have also managed to raise over $100,000 to donate. In an interview with Rolling Stone, Vlad Yaremchuk, the festival's booking manager revealed that "we've given away almost everything we had. […] That includes all the drinks; our carbonated and clear water. We gave away everything that had to do with festival infrastructure — anything used to feed staff, hand sanitizer, gloves, raincoats, sleeping pads. Anything you can imagine, we donated. There was no use for it right now, and if there's no Ukraine tomorrow, there's no use for it then either."
Culture, embedded in music, contributes to Ukraine's efforts in the war. For many years, a festival called Shypit has attracted many people to an area in the Carpathian Mountains, where peace, love and Ukrainian nature is preached. Surprisingly, the war did not stop this event. Many still attended it over the past two summers.  Many of the attendees were getting conscripted during that weekend, and they saw the festival as an opportunity to rejoice before being sent to the frontlines: "to take the chance to have a youth, far away from Russia's artillery". Edik, a seasoned Shypit participant, and at the time, a fresh recruit to the army, says that it is vital to understand that partying for a weekend is not treason, that it's more like a rest to gain strength to fight for his own country. Joe, another conscript, says that although many at the festival are all about peace, he is for Ukraine, and he will fight to make sure that his country does not become "someone else's".
In peacetime, music is a way to connect people and express oneself, and it serves as an outlet for creativity. During wartime, music does not lose its value, in fact, it gains importance—it keeps people's morale up, helps people stay connected, and grounds them. Evidenced by the existence of so many wartime songs and chants, in all languages. Vlad Yaremchuk says "As soon as this place is relatively peaceful again, we want people to experience Ukraine and tell the world about it. I hope we can still stay on that mission and thousands of music fans can come to the festival to see what a wonderful place this is". This notion of hope echoes throughout Ukraine's wartime music scene.
By Annele Anna Baltmane
October 17, 2023